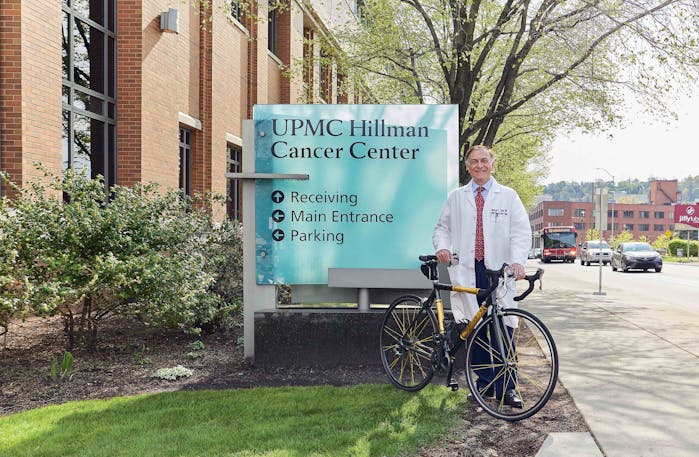 UPMC Hillman Cancer Center
Working to Achieve the Extraordinary: Life Without Cancer.
What began as a local research facility has become a world-renowned regional and international network using the latest technologies to deliver better patient outcomes.
UPMC Hillman Cancer Center is a group of dedicated, talented people working relentlessly to change futures.
UPMC Hillman Cancer Center is raising the bar for patient care, advancing science and fueling innovation, building community with friends and neighbors, stimulating economic development, and enhancing the health of people across our geographic footprint and beyond.
The work we do means that everyone who works at UPMC Hillman Cancer Center—clinicians, researchers, and staff—can proudly say, "I'm finding a cure for cancer."
Our extensive network allows us to provide world-class care and novel therapies close to home, using the latest technologies for evaluation, diagnosis, and treatment. Our status as a National Cancer Institute-designated Comprehensive Cancer Center—one of only 52 in the U.S. and the only one in western Pennsylvania—places us among an elite group of institutions that demonstrate excellence in research, patient care, education, and community outreach. What really matters is what this can mean to our patients: better outcomes. UPMC Hillman has been at the forefront of cancer research and patient care for more than 35 years. In 1985, the University of Pittsburgh Cancer Institute was created as a research facility to work with UPMC's clinical oncology services in exploring innovative ways to understand, diagnose, treat, and prevent cancer.
Together with the University of Pittsburgh, Hillman Cancer Center opened in Pittsburgh's Shadyside neighborhood in 2002, a facility hosting highly specialized clinical services and research laboratories under one roof. At the same time, we accelerated expansion of our community cancer center network, becoming the largest academic cancer center network in the United States. In 2017, we united our flagship facility in Shadyside, our community network, and our research services under the banner of UPMC Hillman Cancer Center. Today, our reach extends far beyond Pittsburgh. We have grown to 76 network locations throughout Pennsylvania, Ohio, Maryland, and New York—along with facilities in Ireland and Italy. Across all these locations, we truly function as one UPMC Hillman Cancer Center.

At a Glance
76 locations
More than 2000 doctors, researchers and staff
150+ medical oncologists
60+ radiation oncologists
30+ surgical oncologists
1 of only 52 NCI-designated Comprehensive Cancer Centers in the U.S. 
More than 140,000 patients treated every year
Over 500 active clinical trials