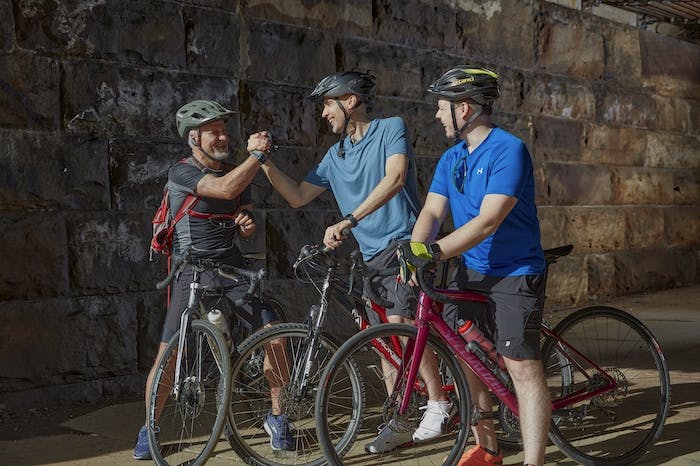 Fundraising
Where the Rubber Meets the Road.

Every dollar you raise goes to support cancer research.
UPMC Hillman Cancer Center is here for the community. We are your partners in the fight against cancer. We need your support to continue making advances through cutting-edge research and community outreach. Rush to Crush Cancer was created as a way to engage others in our mission and provide ways for everyone to step up and help.
Put your legs into it.
As a single rider, you can choose the route with which you are most comfortable; each will come with a specific minimum fundraising commitment. You are also free to create and name your own ride team and raise funds—and amp up the fun—as a group.
Pour your heart into it.
You can use your social media presence to get the word out about the event and ask for donations from family, friends, and total strangers. You can use your culinary skills to sell baked goods. Hold a car wash. Do anything you can to raise funds. Every contribution—and every dollar—matters.
Fundraising Toolkit
Thank you for committing to so much more than a ride. You are now part of a community that is bringing this event to life and raising vital funds to support cancer research. Whether you are a veteran fundraiser or a rookie, we are here to help.
We have assembled a few tips, tricks, and practices into a step-by-step 'toolkit' to guide you toward your fundraising goals.
Four-step fundraising method: Prepare, Ask, Remind, and Thank



Step 1:  Prepare
 
Decide How you will fundraise, Who you will ask to donate, and Why you are doing this.
How?                                                                                                                                         
What are your hobbies and interests, and can you turn them into fundraising tools? We have supplied a list of easy, must-try fundraisers that work.
Who?                                                                                                                                           
Make a list of friends, family, colleagues, social media connections, your hairdresser, your religious network, everyone you interact with regularly.
Why?                                                                                                                                            
Think about what inspired you to commit to raising funds… and the impact your donations will have.


Step 2:  Ask
 
Start with the people you know best. And appeal to them personally. You may be surprised how happy they are to contribute—and how much. 
If you cannot ask in person, try social media or e-mail. Or surprise them by taking the time to send a hand-written letter.


Step 3:  Remind
 
You may find most people need to be reminded that you asked. So always follow up with those who have not donated yet—and do not be afraid to remind them more than once.
Event fundraising deadline: June 19, 2024
The deadline occurs after the event. So it is not too late to send a final reminder after you ride. Make sure to share how well you are doing in reaching your fundraising goals.
 
Step 4:  Thank
 
This is the most crucial step. You could not participate in this year's event without their support, and you want them to keep supporting you year after year. Whether you create your own cards with a personalized message or give them a shout out on social media, taking time to thank your donors will go a long way.
Utilize social media


Social media is a quick and simple way to collect donations. With Facebook, Twitter, Instagram, YouTube, LinkedIn and many more sites at your fingertips, there's no reason you can't succeed. You can seek donations, recognize donors, provide training updates, share your story, and raise awareness instantly. Make sure you share your fundraising page link and training photos.


Social media best practices
Follow Rush to Crush Cancer and P3R on social media and include them in your posts for more visibility.
Include 2-3 hashtags in your posts to start or join a conversation, we recommend starting with #R2C and #RushtoCrush.
Utilize Rush to Crush Cancer and P3R social media content. If you see an interesting post, share it on your page and add your fundraising link.
Grab attention by using visuals and approved Rush to Crush logos.
Recognize your donors by mentioning them in a genuine and unique post. Do not forget to thank them personally.
Make your post easier to read by using Bitly to shorten your fundraising page URL.
Create a sense of urgency. Example: "Only two more days to donate to help raise funds to CRUSH cancer."
Always make sure your connections know how far you are from reaching your goal.
Encourage your connections to share your posts. Make sure they're relevant and interesting.
Do not forget the call to action. Let the viewer know whether you want them to donate, ride with you, volunteer, or learn more about UPMC Hillman Cancer Center.
Add QR codes. There are many ways to make a QR Code of a page — in Google Chrome on a desktop just right-click to find the option to create a QR code or use a free QR code generator. Save and copy the image file and print it on posters for a tip jar, post it at team fundraising events, or save it to your phone and have friends and family quickly scan and donate. Create a QR code at the-qrcode-generator.com.
The power of sharing your story

Every rider has their own unique story that motivates them. Let everyone know why your story holds a special place in your heart.
Whether you're riding in memory of a loved one, friend, or colleague, telling your story can help bring awareness to Rush to Crush Cancer and UPMC Hillman Cancer Center. It can inspire someone to contribute to your campaign, and others to participate.
Ways to share

Almost everyone you know checks their social media accounts daily. Social media is the perfect way for you to share your story—and the link to your personal fundraising page.
Write a blog or create a YouTube video to go deeper with your story and share details about why you ride or volunteer.
Fundraising ideas


Social events
Host a monthly game night for friends and family. Choose a variety of board games. Ask guests to pay a fee to play, and you will raise funds while you are having a good time.
Plan a happy hour at your favorite bar. Ask for $15-20 per person, with half going to your campaign and half toward drinks. Ask local businesses to donate gift cards, tickets, or gift baskets to auction off during the event.
Hold a bake sale at a high-traffic location. Make your favorite baked goods—and ask family to do the same. Use the proceeds for your fundraiser.
Organize a multi-team corn hole tournament. Have each team pay a registration fee to play—part will cover expenses and part will go toward your campaign. You can sell refreshments and food and hold a raffle or auction.


Themed events
March Madness

The most exciting part of the NCAA Men's and Women's basketball tournament is the pools—at the office or among family and friends. When creating your March Madness pool, ask friends and co-workers to double their buy-in so half of the money can go to your fundraising campaign.
Tailgate party

Football season is tailgate season. Support your favorite team while your friends and family support your fundraiser. Ask a local restaurant to donate food and beverages, charge an admission fee (donations), and enjoy the game. Add yard games like corn hole and ladder golf to create competition—and opportunities for more donations for entry.


Holiday-centered giving


Personal celebrations

Ask your family to put money they would normally spend on personal gifts toward your fundraiser instead.

New Year's resolution

Ask your friends and family to add donating to your cause on their list of resolutions—and keep your resolutions together.
 
Involve your company/ co-workers
Office

Check with your HR department about distributing flyers, e-mails, and posting on the office bulletin board.
Corporate matching

Many companies and organizations offer corporate matching. Ask if your company or organization has a matching gift program. You should not rely on gift matching to cover your fundraising minimum, but every dollar helps. Also ask your donors if their employers have a matching gift program.
Donate For ______

Ask your employer if they will let staff designate their donation for 'jeans day' to your campaign.

Stories
Hear from some of our researchers, physicians, patients, and riders to learn more about their experiences and the impact of this event.
Learn More
Research
Discover how our research is moving us closer to achieving the extraordinary: Life without cancer.
Learn More

UPMC Hillman Cancer Center
Learn more about the compassionate care we are providing to patients across the region and around the world.
Learn More