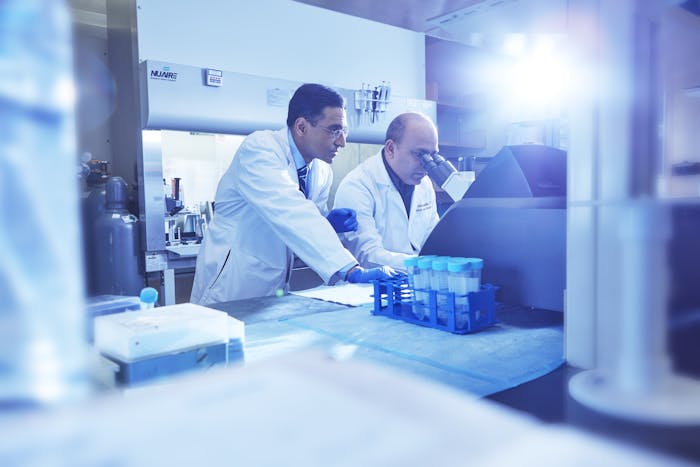 Cancer Research
The Journey Starts with Research.
This is what it's all about. This is where hundreds of scientists discover new treatments as they pursue a future without cancer. This is where we invest every dollar we raise.
We are thousands of dedicated people sharing one overriding goal – life without cancer.
At UPMC Hillman Cancer Center, treating cancer starts with a full spectrum of research performed by more than 300 scientists. Research that yields discoveries we then use to treat the more than 140,000 patients we see each year throughout our integrated cancer care delivery network. As an NCI-designated Comprehensive Cancer Center, a large part of our research mission is community outreach and providing the education that fosters the next generation of researchers.
Together with the University of Pittsburgh, UPMC Hillman Cancer Center has built a remarkable portfolio of research programs, producing discoveries from identifying two of the seven known cancer-causing viruses to developing the first synthetic cancer vaccine.
None of this happens without funds to support our mission. Every dollar goes to investing in the work that promises to unlock a future without cancer.
Not only will Rush to Crush Cancer support research in the laboratories, but it will also create a new way for the greater community to engage with our cancer center while providing the resources to help us better serve the region's health care needs. Here are just a few examples:
Provide greater access to prevention programs
Expand outreach within rural communities through education and screening
Develop new research initiatives focused on health care disparities among vulnerable populations
Catalyze research and recruit world-class scientists
Enhance access to clinical trials across our ever-growing network
Research Programs
These seven Hillman research programs represent a key aspect of our work:
Biobehavioral Cancer Control: How a person's biology and behaviors impact their cancer risk
Cancer Biology: What happens in cancer cells—how they behave, grow, and die
Cancer Epidemiology and Prevention: Who gets cancer and why—and how we can prevent it
Cancer Immunology and Immunotherapy: How cancer influences the human immune system—and how we can use the immune system to fight cancer
Cancer Therapeutics: The development of new cancer drugs and therapies
Cancer Virology: Not only how viruses can cause cancer, but how we can use viruses to fight cancer
Genome Stability: How changes in DNA influence cancer

UPMC Hillman Cancer Center
A group of dedicated, talented people working relentlessly to change futures. 
Learn More