Your Guide to Your First 40 or 60 Miles
3.15.2023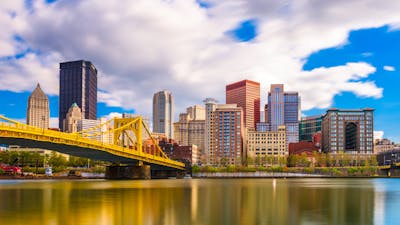 This year's PNC presents Rush to Crush Cancer benefiting UPMC Hillman Cancer will be an inspiring, one-of-a-kind experience. To help you prepare for this event, we asked Jon Carroll, sales lead at Pro Bike and Run, for some tips to ensure that you're ready to go the distance for cancer research and ride 40 or 60 miles.
What type of bike do you recommend?
40 and 60 Mile riders will be encouraged to ride bikes that are able to roll easily on pavement. Mountain bikes will struggle on this course unless equipped with slick tires. Once the route heads north, there is a good bit of climbing, so we recommend bikes equipped with gears that are good at going uphill! The majority of riders will be on road and gravel bikes, but some folks who ride a lot will be on hybrids. This is a GREAT opportunity to put your e-bike to use, too!
A couple of our favorites for this kind of ride:
What gear do you recommend?
Be prepared for a nice long day in the saddle…Proper bike attire and shoes will be KEY to making this day as enjoyable as it can be. Having discomfort with your seat? Swing by a ProBike and Run and get measured for a new saddle. A lot of clothing is also on sale right now as well, and there is definitely a need for good shorts and a chamois for this length of ride. While there will be aid stations throughout the entire course, be prepared to carry some snacks and a flat fix kit with you. You will need a hand pump or CO2, a tube, and tire levers.
What health and safety tips should participants be aware of?
This route will be on some open roads, so we STRONGLY recommend riders equip themselves with lights both front and rear. As the saying goes, "what goes up must come down." There is a good bit of climbing in this course, which means there are some nice long descents as well. All bikes must be checked before the race begins, but in addition to that, there is nothing worse than having a mechanical issue mess up your day. Have your bike tuned up and fully worked over at your local shop so that you can ride with absolute confidence all day!
How do you know if you are ready for this event?
Do a few rides ahead of time that will simulate this kind of distance and effort. Allow yourself one day a week in the months leading up to the ride to get out and ride for three hours or so and see what you notice. Most folks will be comfortable for an hour or so, but it's after that where small issues can become more noticeable. Group riding skills will make the day MUCH more enjoyable as well. Sign up for a local group ride!
What other tips do you have for participants?
Nutrition is key on a day like this. Get a good breakfast with a blend of healthy fats, simple carbohydrates and maybe a couple eggs for some protein. My personal favorite for a big day is something I learned from a few Canadians…Rice, Berries, Banana aaaaaaand Maple Syrup. Weirdly delicious!
<iframe src="https://giphy.com/embed/jhzar9OuWE6fq2wHL3" width="480" height="480" frameBorder="0" class="giphy-embed" allowFullScreen></iframe><p><a href="https://giphy.com/gifs/Halsa-halsa-serenbe-jhzar9OuWE6fq2wHL3">via GIPHY</a></p>