Tips for New Cyclists Training for the Rush to Crush Cancer 15-Mile Ride
3.15.2023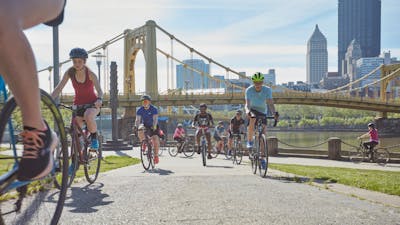 This year's inaugural PNC presents Rush to Crush Cancer is inspiring many to make a difference and join the community ride that will help raise critical funds for UPMC Hillman Cancer Center, a national leader in cancer research and patient care. This event also inspired some of you to try cycling for the first time. To help you fully enjoy this year's event, we asked Jon Carroll, sales lead at Pro Bike and Run, for some tips to help you prepare for the 15-mile ride.
What type of bike do you recommend?
Any type of bike that you feel comfortable spending an hour or so riding. We strongly recommend having your bike checked out with your local bike shop to make sure it is in tip-top shape before this ride. Most shops are pretty caught up on service right now, so it's a great time to get this maintenance done! This route is pretty flat, so hybrids and even mountain bikes will be fine! The point is to HAVE FUN!
 If you are looking for a new bike to ride, check out a few of these:
What gear do you recommend?
Making sure that you have all the right gear for your ride can be the difference between a good ride and a great ride. Bike clothing is something that everyone should at least check out. Padded shorts and a jersey will give riders the option to carry their phones or snacks with them in pockets without extra bulk. Also, it can get pretty hot even in May and the fabrics used in bike clothing will help keep you cool and comfortable.
 Some of our favorites can be found here:
What health and safety tips should participants be aware of?
Riding in a group for the first time can be a bit of a learning curve. We strongly recommend reaching out to your local shop and see what group rides they may offer. Feeling comfortable near other riders will make your day much more enjoyable! Also, have a look at your helmet–they should be replaced every three years. If you need to replace them, we recommend coming in to try some on.
How do you know if you are ready for this event?
Feeling comfortable and excited is the biggest way to be ready for this. Doing a couple rides a week on the local trail system is a great way to make sure you're prepared physically for it. Steady and smooth efforts will help build fitness and confidence. If you ever want to discuss other ways to get ready, swing by ProBike and Run in the Strip District. We would LOVE to help make you feel ready to crush the day on May 19.