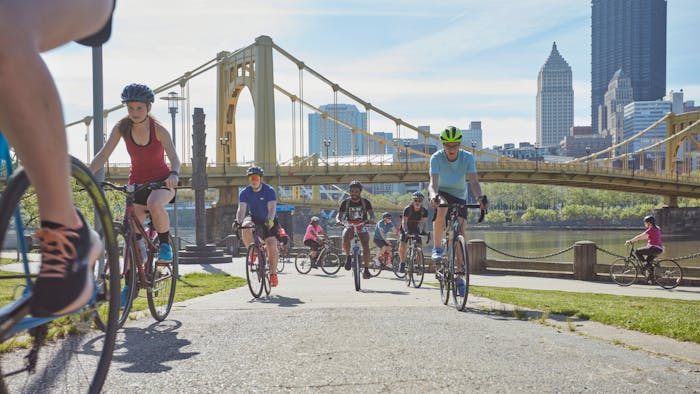 Visitor's Guide
Planning your weekend in Pittsburgh? Let us help with that! Take a look at our interactive map of the best places in the city to check out while you visit the City of Bridges!
As guests in our City, we're excited to welcome you and share our favorite spots you cannot miss while you're here. 
What to do
Our friends at VisitPITTSBURGH have helped us put together an incredible map to help you make decisions about your whole Rush to Crush Cancer Weekend! Click here to see everything!
Where to eat and drink?
Not only can you find amazing places to fuel up before the ride, Pittsburgh also offers multiple local-favorites and two 2023 James Beard semifinalists. No matter where you go, make sure you find yourself some pierogies! Here are a few you could check out: 
What are the sights?
So your bike is ready, you know your route, you've gotten your reservations, and you've made a food run to stock the hotel mini-fridge with your snacks. Now it's time to entertain the family, explore the city, check out the spots you'll only find in Pittsburgh:
Where can I venture on my own? 
Pittsburgh's park systems are perfect to explore on foot before you take to the streets on your bike!
What else is happening in the city? 
Check out all these additional events happening throughout Rush To Crush Cancer Weekend! 
Public Transportation 
Download the TransitApp. 
undefined
How do I pay for a fair? 
Open the Transit App, tap "Buy Ticket" button at the bottom of the screen. There you can purchase transportation fares before you get on your mode of transportation. 
Are there Rideshare options? 
Yes, Pittsburgh has Zipcar, Uber, and Lyft options. 
What if I don't have a smartphone? 
For Bus Service and the "T" - Pittsburgh's light rail system - pay as you enter at the front door. This policy is in effect at all times.
Downtown Pittsburgh is a hub of transportation for the city. You can transfer from more PRT Buses or "T" routes from there. This includes transferring from the Pittsburgh International Airport to wherever you are staying! 
PRT fare is $2.75 for unlimited rides within a 3-hour period. Riders can purchase fares at the ticket vending machine new Door #6 next to baggage claim. Exact change is required when paying with cash as bus drivers do not carry change. Travel between the Downtown and North Shore is free on the light rail system. 
How do I get downtown from the airport? 
Option 1 - PRT 28X Bus: Once you've gotten off your flight and picked up your luggage, the best way to get downtown is to take the 28X Bus. This will take you from the Pittsburgh International Airport to Downtown with other stops along the way. Since Downtown Pittsburgh is our transportation hub, you will be able to make your way to wherever you need to go after arriving downtown and revising your TransitApp. 
Option 2 - Lyft: If you do not want to wait for a bus, we recommend you take a Lyft to your final Pittsburgh destination. 
What if I drive myself to Pittsburgh? If you arrive in Pittsburgh via your own car, don't worry! The city is incredibly driveable and driver-friendly.
Street Parking: Download Go Mobile PGH - The city has Pay Parking all over the city that you can either pay at a kiosk or use the app Go Mobile PGH. We recommend you download the app to your smartphone and use that throughout your stay! One important note is that most of the city has free parking after 6pm. Make sure you pay attention to all road signs while choosing a place to park! 
Garage Parking: Download ParkPGH or visit parkpgh.org - This one-stop shop will help you learn where all the open spots are in the local garages in real-time and could be especially useful on ride day! Warning: some parking garages have limits on how long you can park in them. Please make sure to research which before storing your vehicle for the weekend. 
Where to Stay 
While you're visiting, you'll learn that Pittsburgh is a city with many unique neighborhoods. Each has its own personality, style, and experience to offer. You can't go wrong wherever you stay, but we hope you learn what neighborhood you're in and get to know the local spots Pittsurghers love to frequent.
Where to stay? Check out VistPITTSBURGH's Visitor's Center to plan your stay.