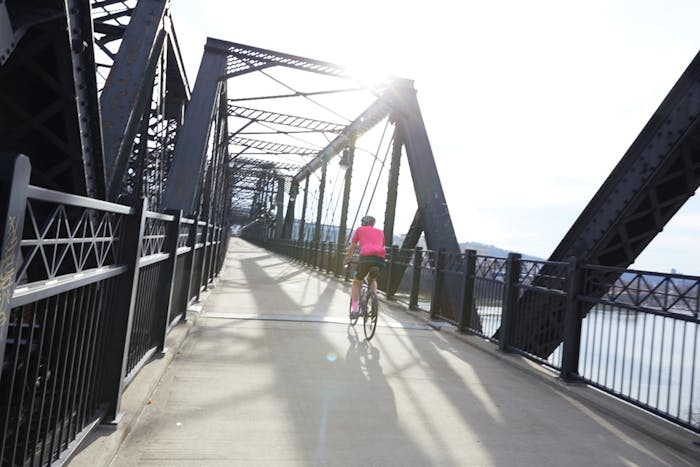 Spectator's Guide
Your guide to being a Rush to Crush Cancer spectator!
Whether your loved one is riding 15-, 40-, or 60-miles, they need your support! Here is your one-stop-shop to plan out how you'll be their biggest cheerleader along the courses.
General Recommendations: 
Recommended Spectator Locations 
While you're out there cheering on your rider, there are a few places we would suggest you gather for the best experience. We have broken this down into the best locations, by neighborhood, on each of the courses. We have also included information about the best places to cheer on riders at the Start/Finish line. Check it out here: 
Start/Finish Line 
We're excited to have our ride start and end at Stage AE in Pittsburgh's North Shore. We'll have our Rider's Village filled with fun activations and rider support. On the course, there are a few areas we'd love to have spectators filling the sidewalks to cheer riders on! 
START LINE VIEWING AREA
LAST MILE SPECTATOR AREA
FINISH LINE VIEWING AREA
RIDER'S VILLAGE AND FINISH LINE FESTIVAL
15-mile Course
During the morning of Saturday, May 20th, the 15-mile course is the only course that will be fully closed off to traffic. We encourage all spectators to come out and cheer on riders from the sidewalks all throughout the city! Here are some of the best spots: 
SOUTH SIDE 
Three Rivers Heritage Trail at S 4th Street and McKean Street - this area will catch riders just before the Three Rivers Heritage Trail that will take them through the South Side along the river. Give them a boost with your best noise makers here! 
Three Rivers Heritage Trail from 4th Street entrance to the South Side Marina - This South Side Trail system is well paved and perfect to setup and cheer folks on! Consider these locations to cheer:
undefinedundefined
S Water Street between REI/27th Street and Hot Metal Bridge - With riders heading up to Hot Metal Bridge, keep up the energy by cheering them on! 
undefined
DOWNTOWN 
THE STRIP DISTRICT 
BLOOMFIELD
40-Mile Course
Pittsburgh's historic Strip District is the first leg of the race that runners will pass through and the last before Downtown! If you want to see your runner at the start and cheer them on while they make it to Downtown, this is your best bet! 
ASPINWALL
O'HARA TOWNSHIP
PLACES TO GO
60-mile Course
Pittsburgh's North Side and North Shore have always been known for one thing, cheering on those in Black and Yellow. Whether it's the Steelers, Pirates, or a Rush To Crush Cancer Rider, this neighborhood never disappoints. Here are some of the best spots: 
ALLISON PARK
SEWICKLEY
BRIGHTON HEIGHTS